Roseann Fucillo of Cilloette Butterflies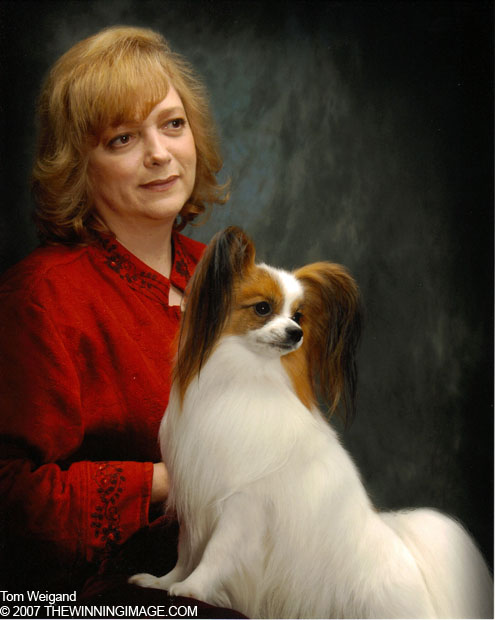 I have been breeding and showing Papillons under the Cilloette prefix since 1977. With just a small breeding program, independent of partnerships, I bred 32 AKC champion Papillons plus a Canadian champion, Ch. Cilloette Top Secret. I also put champion titles on 6 that were not bred by me, 3 of which were English imports.
I am also very proud to have bred MACH5 Cilloette Jumpin Zak Flash, owned by Kathleen Kreider, who is among the top 5 agility dogs in the country and 6 obedience titled Papillons including Ch. OTCH Cilloette Midori.
My life with Papillons started when I had lost my beloved Doberman in 1976, which caused me to be on a mission to search for the perfect "lap dog." It was at my first dog show, The Progressive Dog Club in NYC, where I met my first Papillon. I had gone to the show to do my research, to see all the Toy breeds, and to meet with several breeders. I had never seen an actual Papillon, but having an art background, I had been intrigued having seen paintings of them in both art and dog books, and in museums. I first became attracted to them because of their exquisite beauty, but after seeing them up close and comparing them to all the other Toy breeds, I was totally enamored by their wonderful outgoing personality, affectionate nature, and superior intelligence.
I soon purchased my first Papillon, an eight-month old male, who was supposed to be a "show" dog. He ended up not being show quality because he was a monorchid. After having my heart set on getting involved in the sport of dogs, I was very disappointed he couldn't be shown in conformation. Because of this, I was then able to convince the breeder that she should sell me her gorgeous bitch puppy, who had previously not been for sale. This puppy became my foundation bitch, Ch. Viktoria Katya, DOM, dam of 9 champions. In the words of Madeline Wheeler of Melchester Papillons, she "was bred to breed on."
Katya, whose name I changed to "Cassis," was a very beautiful white and red sable bitch with a great pedigree. She came from several well-known English and Canadian bloodlines, which included the top winning Jaclair line with several generations of BIS dogs. She had lovely type, a showy attitude, and a sound body. Cassis finished her championship at eight months of age, was a top producer in 1985, and was dam of nine Cilloette champions including obedience titled CH/OTCH Cilloette Midori and Ch. Cilloette Elixir Di Amore, CDX. She also had a son, Ch. Cilloette Papilio Amaretto, who I showed at Westminster KC, where he won WD (Winners Dog) and BW (Best of Winners) for a major (a 3 to 5 point win) to finish his championship in style. Another daughter, Ch. Cilloette Anisette, litter sister to Ch. OTCH Cilloette Midori, produced five champions and was a PCA Dam of Merit, one shy from being Dam of Distinction.
I have been to England twice, in 1981 to Crufts, and in 1983 to the Papillon (Butterfly Dog) Club of England's Diamond Jubilee. While there, I visited with several kennels, Charthamcoombe, Claretta, Melchester and Gerlil, to learn as much as I could about the breed and to research the dogs in the pedigrees. I was then fortunate to import two dogs from my contacts there, Gerlil Commanche Warrior and Claretta Naughty Marietta, both of whom I showed to their championships.
In 2005, I imported my third English import and also made him an American Champion as well, BISS Ch. Lorah's Secret Of The Wings, bred by Mrs. Carolyne Allward-Chebsey, who is also his co-owner. I had fun specialing this beautiful boy and as an owner-handler, had made him one of the top 20 Papillons in the country. (see Dak's page on my website Http://www.CilloetteButterflies.com).
I have served the Papillon Club of America in several capacities since I joined in 1980, from being a regional reporter to Corresponding Secretary, which I served from 1985 – 1992. I was proud to chair the Papillon Primer Committee after convincing Virginia Newton to write The Papillon Primer. I also chaired the Education Committee, the Special Awards Committee, and was twice a member of the Nominating Committee.
I have continued to help educate people on the breed through Judges' Education presentations and in writing articles that have been published in "Pap Talk," The Papillon Annual and Pappouri magazine. For many years, I have been a mentor for the Judges' Education Committee and since 2003, have been honored to be chosen as the Papillon Columnist for the AKC Gazette.
I have also enjoyed judging Sweeps for both Patriot Papillon Club and Greater Delaware Valley Papillon Club, although I much prefer showing to judging.
Besides my membership to PCA since 1980, which I am now an Honorary Life Member, I am also a member of The Papillon (Butterfly Dog) Club of England, Patriot Papillon Club, Progressive Dog Club, Palisades KC, the Kennel Club of Northern NJ, and the Dog Writers Association of America.
I have also been honored to have one of my champions, Ch. Cilloette Grand Marnier, appear as the breed standard for the Papillon in a UK book, The Essential Guide to Judging Dogs, written by the world renowned Welsh judge and dog writer, Andrew Brace.
I was born and raised in Massachusetts, living primarily in Winthrop, and now presently call Allendale, NJ my home. My education consists of a BFA from Massachusetts College of Art and an MA from Seton Hall University. I presently teach career education to high school students and have taught special education students with learning disabilities. I have been working for the same school system for over 37 years, where I began my career in education teaching fashion design. Previous to teaching, I had worked on Seventh Avenue in NYC as a fashion designer, designing Junior sportswear, and worked several summer vacations in addition to a 6 month sabbatical, as a stylist for Macy's in their advertising department.
Instead of painting and designing, I have merged my love for art with my love for Papillons. I hope to continue in my strife to perfect the breed by preserving their beauty, elegance, intelligence, wonderful outgoing temperaments, and working to keep the breed healthy and safe from harm.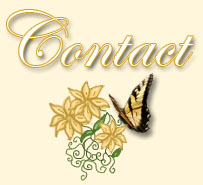 Email: cilloette@yahoo.com
Links:
The Papillon Club of America
The Papillon (Butterfly Dog) Club
Carolyne Allward-Chebsey
May you rest in peace. Thank you, Carolyne, for entrusting me with BISS Ch. Lorah's Secret Of The Wings, Dak.
We miss you, Carolyne.
Joanne Paulino
Thank you, Joanne, for entrusting me with a real little star, Chanceux On A Star, Sabrina.
Contact Joanne at:
chanceuxpaps@aol.com
Jim Mueller:
Thank you to Jim, Shawn and Katey for designing my website and
spending many hours helping me update it!
lk@camelotspaniels.com
Nicholas Forbes and Global Papillon Pedigrees:
Papillon Pedigrees: http://www.papillonpedigrees.org